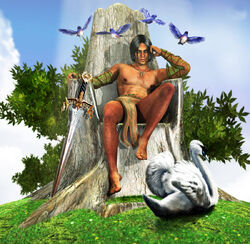 Aenghus Óg is a character in the first book, Hounded. He is the Celtic god of love and is pursuing the protagonist, Atticus O'Sullivan, to retrieve his sword Fragarach, The Answerer.
Etymology
In Irish mythology, Óengus (Old Irish), Áengus (Middle Irish), or Aengus or Aonghus (Modern Irish), is a member of the Tuatha Dé Danann and probably a god of love, youth and poetic inspiration. He is also called Aengus Óg ("Aengus the young"), Mac ind Óg ("son of the young"), Mac Óg ("young son") or Maccan.
Read More
Community content is available under
CC-BY-SA
unless otherwise noted.