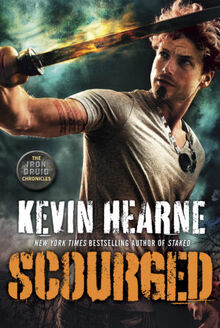 Scourged is the title of the ninth novel in The Iron Druid Chronicles, released April 3, 2018.
Summary
Unchained from fate, the Norse gods Loki and Hel are ready to unleash Ragnarok upon the earth. They've made allies on the darker side of many pantheons and there's a globe-spanning battle brewing that ancient Druid Atticus O'Sullivan will be hard pressed to survive, much less win.
Granuaile McTiernan must join immortals Sun Wukong and Erlang Shen in battle against the Yama Kings in Taiwan, but she discovers the fight is not at all about what she thinks it is.
Meanwhile, Archdruid Owen Kennedy must put out both literal and metaphorical fires from Bavaria to Peru to keep the world safe for his apprentices and the future of Druidry.
And Atticus recruits the aid of a tyromancer, an Indian witch, and a trickster god in hopes that they'll give him just enough leverage to both save Gaia and see another sunrise—there is a hound named Oberon who deserves a snack, after all.
Credits et all
Image and info taken from: https://kevinhearne.com/books/scourged/